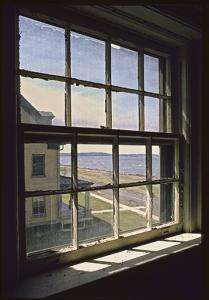 Windows have always fascinated me so it is no surprise that they are one of my most popular subjects (see my Windows and Travel Collections). To me, a window presents the opportunity to view our world in many ways. For Example, a window can distort or reflect the outside environment and it can serve as a filter. As an artist I feel that one of the greatest benefits of a window is to frame the scene in front of us, much as we frame a scene with our camera, so we can better appreciate segments of the view without surrounding distractions.

As an engineer by education I can't ignore the practical side of windows. Most importantly they provide a protected view of the world from any living space. My early appreciation of windows as a photographic subject was when I had an interior office at my place of employment. I placed the image that accompanies this blog (my best seller) on my office wall and experienced the virtual thrill of having a window office. And so began my photographic journey to document the beauty of windows.

I hope this provides some insight into one of my favorite photographic subjects.